Please help my newsletter get noticed by clicking on the Facebook "Like" in the upper right-hand corner or here:
Recent Longevity News for the week ending 1/4/23
It was a slow week for health news. I think everyone is on Christmas break.

I'm going to be off the air for a couple of weeks but all abstracts are saved in my RSS feed. I've got a small tumor just outside the pancreas that was pressing against the bile duct and causing jaundice. One doctor said that it was one of the smallest tumors he's seen but it doesn't matter. There's just one cookie cutter fix. It's temporarily fixed with a stent, but I need the Whipple procedure. As a kid I was exposed to a lot of chemicals such as MEK in my grandfather's garage. As an Army helicopter pilot, I sprayed agent orange (see pix or more or more). It was so strong that it made me cough plus we had to clean it from the windshield after every run. Then there's plastic bottles, pollution from SUVs because people like sitting up high (had to get in that dig), painting the rooms in my house, spraying weeds with RoundUp weed killer, spraying the yard for ants, etc. When I was in the Navy, I was stationed in Philadelphia for a while and lived next to an oil refinery. While on aircraft carriers, the drinking water was often contaminated with jet fuel. Who knows. I'm surprised that I made it this long and it's just one small tumor even though it's a bad location. In the mean time, don't believe the BS Dr. John Campbell spews.
When I had the bile duct blockage, my ALT went from 25 to a thousand. It came down to 68 but from the piss color, I think it's still improving. My bilirubin and AST also went through the roof but those came down to normal. My creatinine has taken a hit since I temporarily stopped swimming. Here's the values shortly have drink a can of Pepsi on the way to the pre-op: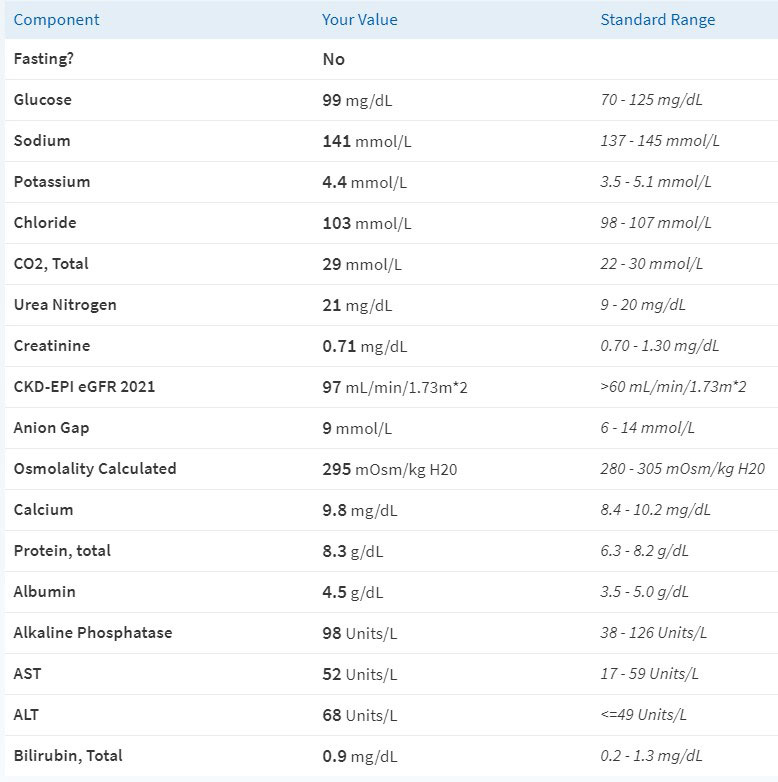 ALT, AST and bilirubin before and after bile duct stent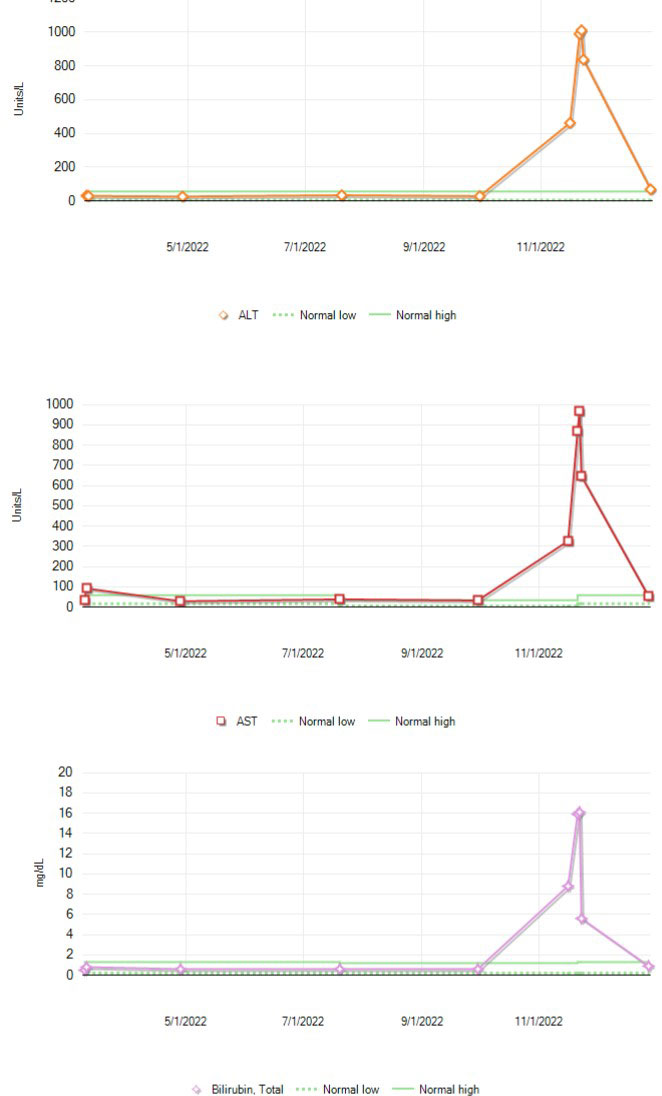 https://www.mdanderson.org/cancerwise/whipple-procedure-and-pancreatic-cancer-treatment-9-things-to-know.h00-159459267.html - "Ultimately, patients should be able to do anything after surgery that they could do before. Some patients get back to running marathons after a Whipple procedure. But it really depends on the individual."

https://www.verywellhealth.com/whipple-procedure-recovery-5074342 - "The average hospitalization time after a Whipple procedure is one to two weeks, with the initial night after surgery spent in the intensive care unit (ICU). Further recovery after discharge will take six to eight weeks ... A Whipple procedure is a complex operation, it takes time for a full recovery; on average, a person may take around two months to fully recover from pancreatic surgery ... Although most people are anxious to go home after any type of surgery, there are specific milestones that a person must overcome before being discharged once they have had Whipple surgery. You must ... Be able to walk without assistance"
---
Melatonin Can Do More Harm Than Good. Try These 3 Sleep Supplements Instead - CNET, 1/1/23 - "If you experience side effects like next-day drowsiness when you take melatonin, does that mean you should never take it? According to Axe, you might be able to try a few adjustments first. To start, he says to avoid taking it in the middle of the night. "After you take melatonin it starts working within about an hour and lasts for about 5 hours in your body, so taking it in the middle of the night isn't the best idea if you want to wake up with energy," he explains" - Note: It just seems like some of these articles talk in circles. "It doesn't make you sleepy but on the other hand, it makes you sleepy". You can't believe every article you read. CBD? Studies don't support that. So melatonin is the placebo effect but CBD isn't even though studies say it is (with CBD). It just seems like the article was written by some marijuana proponent at CNET.
What Coffee-Brewing Method Makes the Best-Tasting Cup? - getpocket - "Method: AeroPress ... Time: 2 minutes ... Flavor Rating: 10/10 ...The AeroPress, like a pourover or Moka pot, makes only one cup at a time, but it's one superb cup. It's dark, smooth, and rich with very little bitterness. (Because brewing happens so quickly, there's no time for any undesirable elements to be extracted.) It's fast, cleanup is easy, and you can pretty much use it anywhere —which is why it's a favorite among camping enthusiasts. The only drawback I can see is the need to buy specialty filters. For coffee this good, it's worth it" - Note: They didn't address the main problem with drip, that being that most drip coffee makers only dispense the water at 170 degrees Fahrenheit when it should be 200 to 205. Constructing a coffee maker that does that cost more and most look for the cheapest and prettiest. There are single-cup drips such as the Touch coffee maker that reach that temperature. See AeroPress at Amazon.com (lotta five star ratings).
This doctor prescribes ketamine to thousands online. It's all legal - Washington Post, 12/30/22 - "At least eight companies have begun providing ketamine by telehealth since the start of the pandemic. Between just Smith and two of the better known companies, Nue Life and Mindbloom, more than 10,000 patients have been treated at home. Virtual ketamine start-ups say they're making the treatment vastly more accessible and improving patients' lives. But many psychiatrists — including those who believe in ketamine's promise for treating mental illness — worry that having patients taking it outside a doctor's direct supervision is a step too far, too soon"
Abstracts from this week:
Combined use of coenzyme Q10 and citicoline: A new possibility for patients with glaucoma - Front Med (Lausanne) 2022 Dec 15 - "Glaucoma is the leading cause of irreversible blindness worldwide. Several risk factors have been involved in the pathogenesis of the disease. By now, the main treatable risk factor is elevated intraocular pressure. Nevertheless, some patients, whose intraocular pressure is considered in the target level, still experience a progression of the disease. Glaucoma is a form of multifactorial ocular neurodegeneration with complex etiology, pathogenesis, and pathology. New evidence strongly suggests brain involvement in all aspects of this disease. This hypothesis and the need to prevent glaucomatous progression led to a growing interest in the pharmacological research of new neuroprotective, non-IOP-lowering, agents. The aim of this paper is to report evidence of the usefulness of Coenzyme Q10 and Citicoline, eventually combined, in the prevention of glaucomatous neurodegeneration ... Overall, these data suggest the possible usefulness of the combined use of citicoline and CoQ10 both in terms of a putative synergistic effect and in terms of combined action on the different pathogenetic targets causing the onset and progression of glaucoma. Using combined treatment may downregulate more pro-apoptotic pathways as well as it may boost the effect on one or more pathways on which the different molecules act. In addition, it may increase patients' compliance reducing the burden of administering several medications, simplifying treatment" - See ubiquinol products at Amazon.com and citicholine at Amazon.com.
Lycopene Attenuates Di(2-ethylhexyl) Phthalate-Induced Mitochondrial Damage and Inflammation in Kidney via cGAS-STING Signaling - J Agric Food Chem 2022 Dec 30 - "Di(2-ethylhexyl) phthalate (DEHP) is a highly harmful and persistent environmental pollutant. Due to its unique chemical composition, it frequently dissolves and enters the environment to endanger human and animal health. Lycopene is a natural bioactive component that can potentially reduce the risk of environmental factor-induced chronic diseases ... Collectively, our data demonstrate that LYC can reduce mitophagy caused by DEHP exposure by activating the PINK1/Parkin pathway and then reduce renal inflammation and apoptosis through the cGAS-STING pathway" - See lycopene at Amazon.com.
Proton Pump Inhibitor Use and Risks of Cardiovascular Disease and Mortality in Patients with Type 2 Diabetes - J Clin Endocrinol Metab 2022 Dec 27 - "Our data suggested that PPI use was associated with higher risks of CVD events and mortality among patients with T2D. The benefits and risks of PPI use should be carefully balanced among patients with T2D, and monitoring of adverse CVD events during PPI therapy should be enhanced"
Total saponins of panax ginseng via the CX3CL1/CX3CR1 axis attenuates neuroinflammation and exerted antidepressant-like effects in chronic unpredictable mild stress in rats - Phytother Res 2022 Dec 29 - "Total saponins of Panax ginseng (TSPG) have antidepressant effects. However, the underlying antidepressant mechanism of TSPG remains not clear ... It is suggested that the antidepressant effect of TSPG may be achieved through inhibition of CX3CL1/CX3CR1" - See Panax ginseng at Amazon.com.
The effect of saffron (Crocus sativus L.) on glycemia, lipid profile, and antioxidant status in patients with type-2 diabetes mellitus: A randomized placebo-controlled trial - Phytother Res 2022 Dec 29 - "At the end of the eighth week, saffron intervention could significantly reduce FBS (7.57%), lipid profile (except high-density lipoprotein cholesterol [HDL-C]), atherogenic indices, and liver enzymes (p < .05). Moreover, saffron could improve oxidative status (nitric oxide [NO] and malondialdehyde [MDA] reduced by 26.29% and 16.35%, respectively). Catalase (CAT) concentration remained unchanged. Saffron supplementation may alleviate T2DM by improving glycemic status, lipid profile, liver enzymes, and oxidative status" - See saffron supplements at Amazon.com.
Works via WiFi (you don't have to point it toward the TV), earphone jack, rechargeable hence it pays for itself:
Health Focus (St. John's Wort):