Recent Longevity News for the week ending 8/4/21
A doctor on YouTube claims that he sees a lot of cases of high total testosterone and high SBHG in older men and he blames it on liver damage in the past. I went to at least two endocrinologists about my high SHBG. Both basically told me that there was nothing they could do. That said, I was ready for them the second time. I asked them to follow up on the formula I was taking to lower it. That formula worked plus it actually lowered my liver enzymes. The formula is at the top of my SHBG page.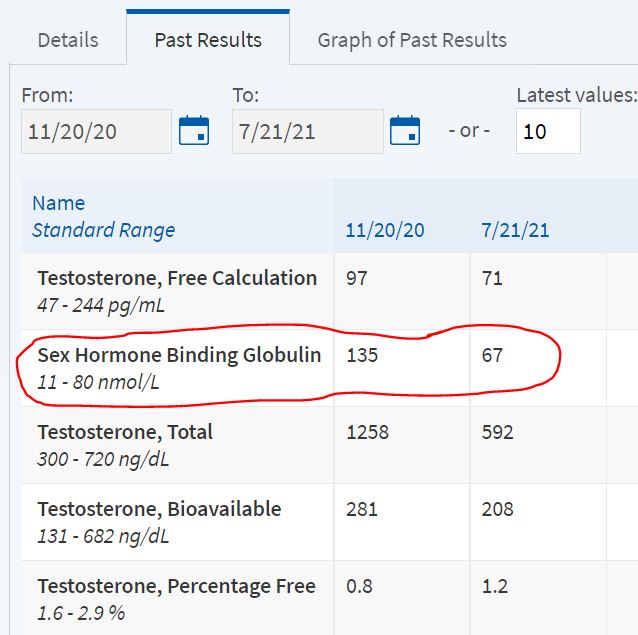 Dapagliflozin Safe, Protective in Advanced - Medscape, 7/23/21 - "During a median follow-up of 2.4 years, patients who received dapagliflozin as opposed to placebo had a lower risk of the primary efficacy outcome – a composite of a 50% or greater sustained decline in eGFR, end-stage kidney disease, or death from cardiovascular or renal causes (hazard ratio, 0.73" - See
'Good cholesterol' may protect liver - Science Daily, 7/22/21 - "the researchers identified a special type of HDL called HDL3 that, when produced by the intestine, blocks gut bacterial signals that cause liver inflammation. If not blocked, these bacterial signals travel from the intestine to the liver, where they activate immune cells that trigger an inflammatory state, which leads to liver damage"
New study finds drinking too much coffee can shrink your brain, increase dementia risk significantly - Hill, 7/23/21 - "participants who consumed more than six cups of coffee each day had a 53-percent increased risk of dementia and smaller total brain volumes compared with those who consumed one to two cups a day ... Healthy adults are advised to limit their daily coffee intake to about four or five cups, which is roughly 400 milligrams of caffeine" - [Science Daily]
Higher levels of omega-3 acids in the blood increases life expectancy by almost five years - Science Daily, 7/22/21 - "Having higher levels of these acids in the blood, as a result of regularly including oily fish in the diet, increases life expectancy by almost five years ... In contrast, "Being a regular smoker takes 4.7 years off your life expectancy, the same as you gain if you have high levels of omega-3 acids in your blood" - See omega-3 supplements at Amazon.com and iHerb.
Scientists reverse age-related memory loss in mice - Science Daily, 7/22/21 - "Recent evidence has emerged of the role of perineuronal nets (PNNs) in neuroplasticity -- the ability of the brain to learn and adapt -- and to make memories. PNNs are cartilage-like structures that mostly surround inhibitory neurons in the brain. Their main function is to control the level of plasticity in the brain. They appear at around five years old in humans, and turn off the period of enhanced plasticity during which the connections in the brain are optimised. Then, plasticity is partially turned off, making the brain more efficient but less plastic ... PNNs contain compounds known as chondroitin sulphates. Some of these, such as chondroitin 4-sulphate, inhibit the action of the networks, inhibiting neuroplasticity; others, such as chondroitin 6-sulphate, promote neuroplasticity. As we age, the balance of these compounds changes, and as levels of chondroitin 6-sulphate decrease, so our ability to learn and form new memories changes, leading to age-related memory decline"
C is for Vitamin C -- a key ingredient for immune cell function - Science Daily, 7/21/21 - "Regulatory T cells (Tregs) help control inflammation and autoimmunity in the body. Tregs are so important, in fact, that scientists are working to generate stable induced Tregs (iTregs) in vitro for use as treatments for autoimmune diseases as well as rejection to transplanted organs ... Now scientists at La Jolla Institute for Immunology and Emory University School of Medicine report that Vitamin C and TET proteins can work together to give Tregs their life-saving power" - See vitamin C products at Amazon.com and iHerb.com.
Coffee, Veggies May Lower Your Odds for COVID - WebMD, 7/21/21 - "The study included nearly 38,000 participants who had received a COVID-19 test. About 17% tested positive for the virus ... The team found that nutrition might confer a modest degree of protection ... consuming one or more cups of coffee a day was associated with a 10% decrease in risk of COVID-19 when compared to consuming less than one cup daily. Consuming at least two-thirds of a serving of cooked or raw vegetables daily (excluding potatoes) was also linked with reduced risk ... However, even eating less than half a serving of processed meat daily — think hot dogs and deli meat — was associated with higher risk. Like coffee, being breastfed as an infant was associated with a 10% reduced risk ... The reason why coffee seems protective while tea is not could be the greater amount of caffeine in coffee, Cornelis suggested ... Alternatively, it could be other constituents of coffee that are unique and make it distinct from tea. For example, tea is often rich in flavonoids. Whereas with coffee, it's more polyphenols, specifically chlorogenic acid, which is actually a relatively unique constituent of coffee"
Abstracts from this week:
Effect of coenzyme Q10 supplementation on oxidative stress and clinical outcomes in patients with low levels of coenzyme Q10 admitted to the intensive care unit - J Nutr Sci 2021 Jul 12 - "CoQ10 administration caused a considerable reduction in the Malondialdehyde (MDA) and Interleukin 6 (IL-6) concentrations (P < 0⋅001), Glasgow Coma Score (GCS; P = 0⋅02), ICU and hospital length of stay and mechanical ventilation (MV) duration (P < 0⋅001). We found that CoQ10 administration could increase Fat-Free Mass (P < 0⋅001) (FFM; P = 0⋅04), Skeletal Muscle Mass (SMM; P = 0⋅04) and Body Cell Mass (BCM) percent" - [Nutra USA] - See
What an idiot. He talks about Tesla not having a spare tire and all the hassle. He could have plugged it in five minutes with a tire plug kit without even removing the tire from the car. I've plugged hundreds of tires with that method at my grandfather's garage and never had one come back with a leak. I carry the kit in my car along with a tire inflator. The glue they use is basically rubber cement. It's included in the kit but that's what you need if you run out.
Health Focus (Green Tea):