Recent Longevity News for the week ending 8/22/18
'Right' Amount of Carbs May Help You Live Longer - WebMD, 8/17/18 - "Researchers followed more than 15,000 people in the United States for a median of 25 years and found that low-carb diets (fewer than 40 percent of calories from carbohydrates) and high-carb diets (more than 70 percent of calories) were associated with an increased risk of premature death ... Moderate consumption of carbohydrates (50 to 55 percent of calories) was associated with the lowest risk of early death ... The researchers estimated that from age 50, people eating a moderate-carb diet would live another 33 years, four years longer than those with very low carb consumption, and one year longer than those with high carb consumption ... all low-carb diets may not be equal. Eating more animal-based proteins and fats from foods like beef, lamb, pork, chicken and cheese instead of carbohydrates was associated with a greater risk of early death, while eating more plant-based proteins and fats from foods such as vegetables, legumes, and nuts lowered the risk"
Strawberries could help reduce harmful inflammation in the colon - Science Daily, 8/20/18 - "The sedentary lifestyle and dietary habits of many people in this country -- high-sugar, high-animal-fat, but low-fiber diets -- may promote colonic inflammation and increase the risk of IBD ... The researchers found that dietary consumption of whole strawberries at a dose equivalent to as low as three-quarters of a cup of strawberries per day in humans significantly suppressed symptoms like body weight loss and bloody diarrhea in mice with IBD. Strawberry treatments also diminished inflammatory responses in the mice's colonic tissue ... But decreased inflammation wasn't the strawberry's only conferred benefit during this study. Colonic inflammation adversely impacts the composition of microbiota in the gut. With IBD, the abundance of harmful bacteria increases, while levels of beneficial bacteria decrease in the colon. Following the dietary treatments of whole strawberries, the researchers observed a reversal of that unhealthy microbiota composition in the IBD mice"
Consuming milk at breakfast lowers blood glucose throughout the day - Science Daily, 8/20/18 - "Milk consumed with breakfast cereal reduced postprandial blood glucose concentration compared with water, and high dairy protein concentration reduced postprandial blood glucose concentration compared with normal dairy protein concentration. The high-protein treatment also reduced appetite after the second meal compared with the low-protein equivalent ... Digestion of the whey and casein proteins naturally present in milk releases gastric hormones that slow digestion, increasing feelings of fullness"
Study: Fluoride Crucial To Prevent Cavities - WebMD, 8/15/18 - "While oral hygiene may help a bit, it's the fluoride that makes the difference in getting to the plaque and preventing cavities ... The ADA recommends brushing twice a day with a fluoride-containing toothpaste ... For those who do not want to use fluoride-containing toothpastes, another option is going on a very low-carb diet, generally less than 50 grams a day"
Eating breakfast burns more carbs during exercise and accelerates metabolism for next meal - Science Daily, 8/15/18 - "compared to skipping breakfast, eating breakfast before exercise increases the speed at which we digest, absorb and metabolise carbohydrate that we may eat after exercise ... breakfast before exercise increases carbohydrate burning during exercise, and that this carbohydrate wasn't just coming from the breakfast that was just eaten, but also from carbohydrate stored in our muscles as glycogen. This increase in the use of muscle glycogen may explain why there was more rapid clearance of blood sugar after 'lunch' when breakfast had been consumed before exercise ... As this study only assessed the short-term responses to breakfast and exercise, the longer-term implications of this work are unclear, and we have ongoing studies looking at whether eating breakfast before or after exercise on a regular basis influences health"
Chemicals found in vegetables prevent colon cancer in mice - Science Daily, 8/14/18 - "We studied genetically modified mice that cannot produce or activate AhR in their guts, and found that they readily developed gut inflammation which progressed to colon cancer," explains first author Dr Amina Metidji from the Francis Crick Institute. "However, when we fed them a diet enriched with I3C, they did not develop inflammation or cancer. Interestingly, when mice whose cancer was already developing were switched to the I3C-enriched diet, they ended up with significantly fewer tumours which were also more benign." - See indole-3-carbinol at Amazon.com
.
Three Eye Conditions Linked to Higher Alzheimer's Risk - Medscape, 8/14/18 - "Participants recently diagnosed with glaucoma had a 46% increased likelihood of developing AD. Similarly, the risk among those recently diagnosed with AMD or diabetic retinopathy had a 50% increased AD risk compared with their counterparts without these conditions"
How cannabis and cannabis-based drugs harm the brain - Science Daily, 8/13/18 - "the long-term use of either cannabis or cannabis-based drugs impairs memory ... It is already known that heavy, regular cannabis use increases the risk of developing mental health problems including psychosis and schizophrenia ... mice exposed for long-term to the drug had "significant memory impairments" and could not even discriminate between a familiar and novel object. Also, brain imaging studies showed that the drug impairs function in key brain regions involved in learning and memory. Moreover, the long-term exposure to the drug impairs the ability of brain regions involved in learning and memory to communicate with each other, suggesting that this underlies the negative effects of the drug on memory ... our work clearly shows that prolonged cannabinoid intake, when not used for medical reasons, does have a negative impact in brain function and memory"
Son of popular teacher sentenced for killing her - Fox 5 News, 8/18/18 - "A man who used a stun gun to render his mother defenseless, then fatally stabbed her in the Clairemont home they shared, was sentenced Friday to 26 years to life in prison ... The victim was stabbed more than 20 times in the head, neck and throat ... Van Atta said Joseph Burks had lived with his mother his whole life and the victim wanted him to move out and get a job ... According to evidence at trial, the defendant had purchased a stun gun the day before the murder" - Note: I dated Angela for nine years. I never did get along with Joey. I believe pot was what started Joey's problems. I was against pot way before this but now it's like a vindictive crusade against pot.
Largest study yet shows type of underwear is linked to men's semen quality - Science Daily, 8/8/18 - "Men who wear boxer shorts have higher sperm concentrations than men who wear tighter fitting underwear ... The researchers also found that boxer shorts-wearing men had lower levels of follicle-stimulating hormone (FSH), compared to men who most frequently wore briefs, "bikinis" (very brief briefs), "jockeys" (underwear that finishes just above the knee) or other tight-fitting underwear. FSH stimulates sperm production and the researchers say that these findings suggest that it kicks into gear when it needs to compensate for testicular damage from increasing scrotal temperatures and decreasing sperm counts and concentration ... Men who primarily wore boxer shorts had a statistically significant 25% higher sperm concentration, 17% higher total sperm count, 33% more swimming sperm in a single ejaculate and 14% lower FSH levels than men who did not usually wear boxers ... Other factors that might affect scrotal heat, such as type of trousers (e.g. skinny jeans) and underwear fabric, could also affect the results" - [NYT]
Dietary carbohydrates could lead to osteoarthritis, new study finds - Science Daily, 8/9/18 - "the carbohydrate composition of diets increased the risk of osteoarthritis in laboratory mice -- even when the animals didn't differ in weight ... In particular, Griffin's team found that changing the amount of sucrose -- table sugar -- and fiber in the diet altered OA pathology in the rodents. The high-sucrose diet increased signs of joint inflammation, while the high-fiber diet caused changes in cartilage genes and cellular stress-response pathways"
How to choose a healthier mayonnaise, or make your own - Washington Post, 8/8/18 - "some of the mayonnaises currently sitting on the grocery store shelves are healthier than the conventional ones, most of which are made with oils such as safflower, sunflower, corn and soybean. These oils are low in healthful Omega 3 fatty acids and high in Omega 6 fatty acids — excess consumption of which can be unhealthy ... When picking an alternative mayonnaise to taste test, choose one with organically produced oils, ideally olive or avocado (canola oil is an acceptable option but provides fewer health benefits). In moderation, olive and avocado oils are healthy for your heart, cholesterol, and brain, and also deliver antioxidants to fight disease. Read the labels carefully: Some of the products labeled "olive oil mayonnaise" include a combination of olive oil and canola or soybean oil. Organic eggs are ideal because they cannot be exposed to the toxic chemicals and hormones that nonorganic eggs are. Rosemary oil is a much more wholesome preservative than potassium sorbate or calcium disodium EDTA, and look for real flavors, such as salt, herbs, spices and mustard instead of the so-called "natural" flavors. Also, don't fall for the fat-free marketing; many of these versions add sugar to mask the less-creamy taste ... Among the newer products I've tried, my personal favorite is Primal Kitchen's Avocado Oil Mayonnaise, with its tangy flavor ... Other brands to try are Whole Foods 365 Organic Mayonnaise, which also has some canola oil, or Thrive Market's Coconut Oil Mayonnaise" - Note: The highest rated on Amazon is BetterBody Foods Avocado Oil Mayonnaise, Avocado Oil Mayo is made with 100% Avocado Oil, Non-GMO, Cage-Free Eggs, Soy & Canola Free, 28 Ounce but with only 11 reviews. I posted a video on YouTube years ago on making olive oil mayonnaise.
9 Evidence-Based Health Benefits of Avocado Oil -

"Almost 70% of avocado oil consists of heart-healthy oleic acid, a monounsaturated omega-9 fatty acid"
I've been getting the 'Chosen Foods' brand at Costco. I buy the thin cut Foster
Farms chicken breasts also at Costco and grill it with a Cuisinart Griddler.
I put it on whole wheat bread with the mayo and sliced tomatoes. The chicken
is 99% fat free so the sandwich needs more fat and this is the healthy fat.
Amazon also has it.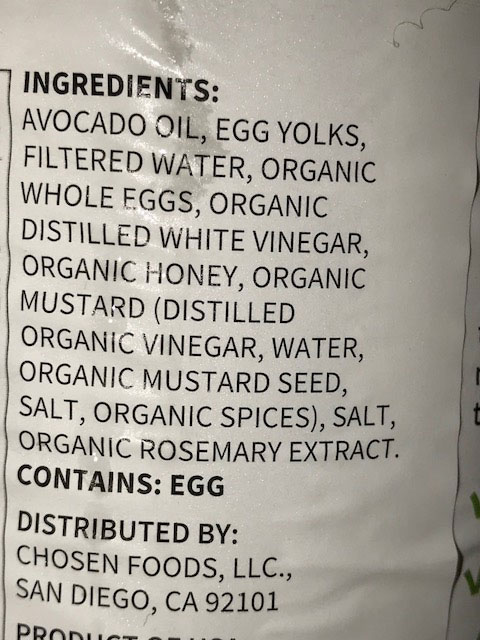 Abstracts from this week:
A Combination of Essential Fatty Acids, Panax Ginseng Extract, and Green Tea Catechins Modifies Brain fMRI Signals in Healthy Older Adults - J Nutr Health Aging. 2018;22(7):837-846 - "Before and after supplementation with the investigational product or placebo, participants completed cognitive tests including the Mini Mental State Exam (MMSE), Stroop test, Digit Symbol Substitution Test (DSST), and Immediate and Delayed Recall tests, as well as functional magnetic resonance imaging (fMRI) during a standard cognitive task switching paradigm ... Performance on the MMSE, Stroop test, and DSST increased significantly over one month of supplementation with the investigational product (one-sample t tests, p<.05) although differences between these changes and corresponding changes during supplementation with placebo were not significant (two-sample t tests, p>.05). During supplementation with the investigational product, brain activation during task performance increased significantly more than during supplementation with placebo in brain regions known to be activated by this task (anterior and posterior cingulate cortex). Functional connectivity during task execution between task regions (middle frontal gyrus and anterior cingulate cortex) increased significantly during supplementation with the investigational product, relative to placebo. Functional connectivity during rest between task regions (precentral gyrus and middle frontal gyrus) and default mode network regions (medial frontal gyrus and precuneus) decreased during supplementation with the investigational product relative to placebo, suggesting greater segregation of task and rest related brain activity" - See omega-3 supplements at Amazon.com
, ginseng at Amazon.com
and green tea extract at Amazon.com
.
An Update on Protein, Leucine, Omega-3 Fatty Acids, and Vitamin D in the Prevention and Treatment of Sarcopenia and Functional Decline - Nutrients. 2018 Aug 16;10(8) - "Recent evidence supports a higher protein intake recommendation of 1.0⁻1.2 g/kg/day in healthy older adults; an evenly distributed mealtime protein intake or minimal protein per meal may be beneficial. In addition, vitamin D supplementation of 800⁻1000 IU, particularly when vitamin D status is low, and doses of ~3 g/day of n-3 PUFA may be favorable for physical function, muscle mass, and strength. Reviewed studies are highly heterogenous, yet the quantity, quality, and timing of intakes should be considered when designing intervention studies. Combined protein, leucine, vitamin D, and n-3 PUFA supplements may convey added benefits and may represent an intervention strategy in the prevention of sarcopenia and functional decline" - See leucine products at Amazon.com
.
Grape seed proanthocyanidin extract supplementation affects exhaustive exercise-induced fatigue in mice - Food Nutr Res. 2018 Jun 6;62 - "These results proved that treatment of GSPE possessed the beneficial properties of anti-inflammatory, antioxidant, and mitochondrial protection to improve exhaustive exercise, which suggested that GSPE could be used as an effective functional food to delay fatigue" - [Nutra USA] - See grape seed extract at Amazon.com
.
Pycnogenol® supplementation in minimal cognitive dysfunction - J Neurosurg Sci. 2018 Jun;62(3):279-284 - "Participants were divided into two groups: one group was treated with standard management (SM) only (N.=44), whereas the other group received Pycnogenol® supplementation (150 mg/day) in addition to SM ... In the Pycnogenol® group MMSE score at inclusion was on average 21.64±1.5; after 8 weeks of supplementation, the average MMSE score increased significantly to 25.64±1.4 (P<0.05). In controls, the initial MMSE score was 22.43±1.2, comparable to the supplement group; however, in these subjects it did not show significant improvement after 8 weeks (average after treatment: 23.00±1.3). The median increase was 18% with Pycnogenol® vs. 2.48% in the SM group (P<0.05)." - [Nutra USA] - See Pycnogenol at Amazon.com
.
Health Focus (Deprenyl/Selegiline):