Recent Longevity News for the week ending 10/26/16
Resveratrol can help correct hormone imbalance in women with polycystic ovary syndrome - Science Daily, 10/21/16 - "total testosterone levels fell by 23.1 percent among the women who received the resveratrol supplement. In comparison, testosterone levels increased 2.9 percent in the placebo group. DHEAS declined by 22.2 percent in the resveratrol group, while the placebo group experienced a 10.5 percent increase in DHEAS levels ... In addition to moderating androgen hormones, the women who received resveratrol showed improvement in diabetes risk factors. Among the resveratrol group, fasting insulin levels dropped by 31.8 percent during the three-month study. The researchers also found the women who received resveratrol during the study became more responsive to the hormone insulin over the course of the study" - See Reserveage Nutrition - Resveratrol with Pterostilbene 500mg, Cellular Age-Defying Formula, 60 veg capsules at Amazon.com
.
Risk of Erectile Dysfunction Associated With Use of 5-α Reductase Inhibitors for Benign Prostatic Hyperplasia or Alopecia - Medscape, 10/20/16 - "5-α reductase inhibitor (finasteride or dutasteride) ... 5-α reductase inhibitors do not seem to significantly increase the risk of incident erectile dysfunction, regardless of indication for use. Risk of erectile dysfunction increased with longer duration of benign prostatic hyperplasia"
Micronutrient Deficiency Often Unnoticed in PPI Users - Medscape, 10/20/16 - "Although micronutrient deficiency with PPIs is "pretty well recognized, all the data come from observational studies," Dr Yang pointed out. "This can be a problem because long-term users may be different from nonusers. When you observe a lower level of these nutrients in PPI users, it's hard to tell whether it's from the PPI or whether it's just who they are. Without really having that aspect pinned down, it's going to be hard for any guideline to come out and recommend definitively to monitor micronutrients.""
Mediterranean Diet May Cut AMD Risk by More Than a Third - Medscape, 10/19/16 - "Several studies have shown that vitamin A, vitamin C, vitamin E, lutein, antioxidants, and omega-3 help protect against age-related macular degeneration and have health benefits beyond ophthalmology ... A score of 9 indicated a Mediterranean-style diet, whereas a score of 0 indicated a completely different diet ... The risk for macular degeneration was 35% lower in people with a score below 6 than in those with a score of 6 or higher (50% vs 39%)"
Tamiflu has gone generic in Tijuana. 299 pesos is less than $17: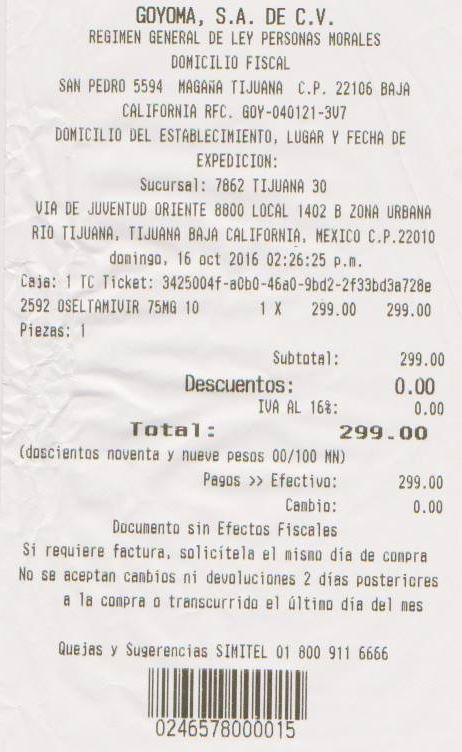 Abstracts from this week:
Oral magnesium supplementation improves endothelial function and attenuates subclinical atherosclerosis in thiazide-treated hypertensive women - J Hypertens. 2016 Oct 18 - "Diuretics commonly cause hypomagneseamia ... Hypertensive women (40-65 years) on hydrochlorothiazide and mean 24-h BP at least 130/80 mmHg were divided into placebo and supplementation (magnesium chelate 600 mg/day) groups ... The magnesium group had a significant reduction in SBP (144 ± 17 vs. 134 ± 14 mmHg, P = 0.036) and DBP (88 ± 9 vs. 81 ± 8 mmHg, P = 0.005) at 6 months, without effect on plasma glucose, lipids, or arterial stiffness parameters. The placebo group showed a significant increase in carotid intima-media thickness (0.78 ± 0.13 vs. 0.89 ± 0.14 mm, P = 0.033) without change in the magnesium group (0.79 ± 0.16 vs. 0.79 ± 0.19 mm, P = 0.716) after 6 months. The magnesium group demonstrated a significant increase in variation of FMD vs. the placebo group (+3.7 ± 2.1 vs. 2.4 ± 1.2%" - See magnesium chelate at Amazon.com. I'm sticking with the Magtein form to kill more birds with the same stone. See Jarrow Formulas, MagMind at Amazon.com
.
Effects of Ginsenoside Rg1 on Learning and Memory in a Reward-directed Instrumental Conditioning Task in Chronic Restraint Stressed Rats - Phytother Res. 2016 Oct 20 - "Ginsenoside Rg1 is one of the major active ingredients of Panax ginseng and has showed notable improving learning and memory effects in several behavioral tasks, such as water maze, shuttle-box, and step-through, based on avoidance ... chronic restraint stress (CRS) ... Rg1 has a good ability to improve learning and memory and also ameliorate impaired adaptive capacity induced by CRS. This amelioration effect of Rg1 might be mediated partially by BDNF/TrkB/Erk pathway in prefrontal cortex" - See ginseng at Amazon.com
.
Evaluation of the in vitro and in vivo metabolic pathway and cytochrome P450 inhibition/induction profile of Huperzine A - Biochem Biophys Res Commun. 2016 Oct 15 - "Huperzine A (HupA), one of the reversible and selective acetylcholinesterase inhibitors derived from Chinese herb Huperzia Serrata, possesses affirmative action of ameliorating cognitive dysfunction of Alzheimer's disease. Up to now, the effects of HupA on human cytochrome P450s (CYPs) have not been fully elucidated ... These results suggest that HupA is substantially excreted by kidney unchanged rather than metabolized by human liver, and is unlikely to cause clinically relevant drug-drug interaction (DDI) when co-administrated with drugs that are metabolized by CYP isoenzyme system" - See huperzine at Amazon.com
.
Curcumin, the golden nutraceutical: multitargeting for multiple chronic diseases - Br J Pharmacol. 2016 Sep 17 - "At the molecular level, this multitargeted agent has been shown to exhibit anti-inflammatory activity through the suppression of numerous cell signalling pathways including NF-κB, STAT3, Nrf2, ROS and COX-2. Numerous studies have indicated that curcumin is a highly potent antimicrobial agent and has been shown to be active against various chronic diseases including various types of cancers, diabetes, obesity, cardiovascular, pulmonary, neurological and autoimmune diseases. Furthermore, this compound has also been shown to be synergistic with other nutraceuticals such as resveratrol, piperine, catechins, quercetin and genistein. To date, over 100 different clinical trials have been completed with curcumin, which clearly show its safety, tolerability and its effectiveness against various chronic diseases in humans" - See curcumin products at Amazon.com
.
Early micronutrient supplementation protects against early stress-induced cognitive impairments - FASEB J. 2016 Oct 21 - "Early-life stress (ES) impairs cognition later in life. Because ES prevention is problematic, intervention is needed, yet the mechanisms that underlie ES remain largely unknown ... In conclusion, nutrition is important in brain programming by ES. A short, early supplementation with essential micronutrients can already prevent lasting effects of ES"
Efficacy of Tribulus terrestris for the treatment of hypoactive sexual desire disorder in postmenopausal women: a randomized, double-blinded, placebo-controlled trial - Menopause. 2016 Oct 10 - "assigned to receive 750 mg/d of T terrestris or placebo for 120 days ... All participants answered the Female Sexual Function Index and the Sexual Quotient-female version questionnaires ... FSFI questionnaire results demonstrated an improvement in all domains in both groups (P < 0.05) except for lubrication which was improved only in the study group. QS-F results showed a significant improvement in the domains of desire (P < 0.01), arousal/lubrication (P = 0.02), pain (P = 0.02), and anorgasmia (P < 0.01) in women who used T terrestris, whereas no improvement was observed in the placebo group (P > 0.05). Moreover, free and bioavailable testosterone levels showed a significant increase in the T terrestris group" - See Tribulus terrestris at Amazon.com
.
Effect of extended-release niacin on plasma lipoprotein(a) levels: A systematic review and meta-analysis of randomized placebo-controlled trials - Metabolism. 2016 Nov;65(11):1664-1678 - "Meta-analysis suggested a significant reduction of Lp(a) levels following ER niacin treatment (weighted mean difference - WMD: -22.90% ... When the studies were categorized according to the administered dose, there was a comparable effect between the subsets of studies with administered doses of <2000mg/day (WMD: -21.85%, 95% CI: -30.61, -13.10, p<0.001) and ≥2000mg/day (WMD: -23.21%" - Note: By "extended release" I assume they're talking about Niaspan. I haven't seen any studies on Niaspan and liver damage but it seems like it'd be similar to that of the slow release which has been shown to cause liver damage. The problem wasn't seen in the immediate release niacin. See:
Dietary sodium and potassium intake in relation to non-alcoholic fatty liver disease - Br J Nutr. 2016 Oct;116(8):1447-1456 - "Increasing prevalence of NAFLD was observed with increasing Na intake. The multivariable-adjusted prevalence ratios (PR) of NAFLD comparing the highest with the lowest quintile of energy-adjusted Na intake were 1·25 (95 % CI 1·18, 1·32; P trend<0·001) in men and 1·32 (95 % CI 1·18, 1·47; P trend <0·001) in women ... No inverse association was observed for energy-adjusted K intake. Our findings suggest that higher Na intake is associated with a greater prevalence of NAFLD in young and middle-aged asymptomatic adults, which might be partly mediated by adiposity"
Persistent Sexual Dysfunction with Finasteride 1 mg Taken for Hair Loss - Pharmacotherapy. 2016 Sep 19 - "persistent sexual dysfunction (PSD) ... The rate of PSD for finasteride 1 mg users and omeprazole users was 37.9 and 15.0 per 1000 person-years, respectively ... The risk of PSD in men who stopped finasteride 1 mg therapy was higher than that for omeprazole users. Patients who stopped finasteride therapy sought physician visits for sexual dysfunction up to 1 year after stopping finasteride" - Both are good to know but I don't get why they're comparing a proton pump inhibitor to a 5α-reductase inhibitor.
Probiotic Streptococcus thermophilus FP4 and Bifidobacterium breve BR03 Supplementation Attenuates Performance and Range-of-Motion Decrements Following Muscle Damaging Exercise - Nutrients. 2016 Oct 14;8(10) - "Probiotic supplementation resulted in an overall decrease in circulating IL-6, which was sustained to 48 h post-exercise. In addition, probiotic supplementation likely enhanced isometric average peak torque production at 24 to 72 h into the recovery period following exercise (probiotic-placebo point effect ±90% CI: 24 h, 11% ± 7%; 48 h, 12% ± 18%; 72 h, 8% ± 8%). Probiotics also likely moderately increased resting arm angle at 24 h (2.4% ± 2.0%) and 48 h (1.9% ± 1.9%) following exercise, but effects on soreness and flexed arm angle and CK were unclear. These data suggest that dietary supplementation with probiotic strains S. thermophilus FP4 and B. breve BR03 attenuates performance decrements and muscle tension in the days following muscle-damaging exercise" - [Nutra USA] - See Garden of Life Primal Defense ULTRA 180 Capsules at Amazon.com.
Health Focus (Acetyl-L-Carnitine):