Recent Longevity News for the seven days ending 5/9/12. You should consult your doctor if you are taking any medications.
BPA effects seen in monkey mammary glands - Science Daily, 5/7/12 - "The Tufts researchers compared the structure of newborn mammary glands from BPA-exposed and unexposed female rhesus macaques. Pregnant monkeys were fed a piece of fruit containing a small amount of BPA each day during the gestational period corresponding to the human third trimester of pregnancy, resulting in blood levels of BPA comparable to those of many Americans today ... The researchers found that, at birth, the density of mammary buds was significantly increased in BPA-exposed monkeys, and the overall development of the mammary gland was more advanced compared to unexposed monkeys ... This study buttresses previous findings showing that fetal exposure to low xenoestrogen levels causes developmental alterations that in turn increase the risk of mammary cancer later in life ... the sum of all these findings strongly suggests that BPA is a breast carcinogen in humans and human exposure to BPA should be curtailed"
Greater purpose in life may protect against harmful changes in the brain associated with Alzheimer's disease - Science Daily, 5/7/12 - "These findings suggest that purpose in life protects against the harmful effects of plaques and tangles on memory and other thinking abilities. This is encouraging and suggests that engaging in meaningful and purposeful activities promotes cognitive health in old age ... The Rush Memory and Aging Project, which began in 1997, is a longitudinal clinical-pathological study of common chronic conditions of aging. Participants are older persons recruited from about 40 continuous care retirement communities and senior subsidized housing facilities in and around the Chicago Metropolitan area"
Exercise slows muscle wasting from age and heart failure - Science Daily, 5/7/12 - "Exercise can counteract muscle breakdown, increase strength and reduce inflammation caused by aging and heart failure ... Many physicians -- and insurance companies -- still believe that cardiac rehabilitation does not really help in old age. This study clearly falsifies this belief ... Half the participants in each age group were randomly assigned to four weeks of supervised aerobic training or no exercise. Researchers took muscle biopsies of all participants before and after the intervention ... In both age groups, four training sessions of 20 minutes of aerobic exercise per day, five days a week plus one 60 minute group exercise session was associated with increased muscle force endurance and oxygen uptake. Heart failure patients 55 and under increased their peak oxygen uptake by 25 percent, while those 65 and over increased it by 27 percent ... Exercise switches off the muscle-wasting pathways and switches on pathways involved in muscle growth, counteracting muscle loss and exercise intolerance in heart failure patients"
Yogurt Makes Mice Slimmer, Sexier - ABC News, 5/7/12 - "Not only does yogurt make mice slimmer; it also makes them sexier ... Maybe probiotics in the yogurt have something to do with the effects on weight ... It turns out their testicles were 5 percent bigger than those of their non-yogurt eating counterparts, and 15 percent bigger than those of mice on a diet designed to mimic "junk food" in humans. And in this case, bigger was better ... And let's not forget the ladies. Female mice that ate yogurt were even shinier than the males, and tended to be better moms to their larger litters" - See my yogurt recipe at the top of my yogurt page. Speaking of yogurt, I just took this pix of the refrigerator in my office. Two half gallon containers of homemade yogurt on the bottom with Smucker's Select strawberry jam to sweeten it on the top. See the refrig at Amazon: http://www.amazon.com/exec/obidos/ASIN/B000FAR33M/qualitycounts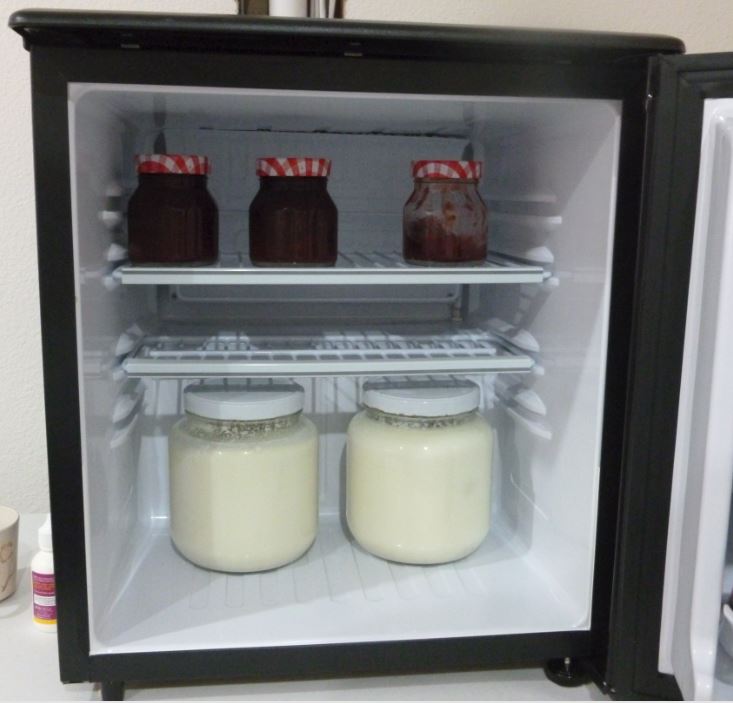 Diabetes shrinks elderly brain - Science Daily, 5/7/12 - "While some brain volume loss is a normal part of aging, the researchers found that elderly people with blood sugar levels in flux, as well as type 2 diabetes, lost almost two and a half times more brain volume than their peers over two years. The reduction in size of the frontal lobe -- associated with higher mental functions like decision-making, emotional control, and long term memory -- has a significant impact on cognitive function and quality of life"
Regular jogging shows dramatic increase in life expectancy - Science Daily, 5/3/12 - "Results show that in the follow-up period involving a maximum of 35 years, 10,158 deaths were registered among the non-joggers and 122 deaths among the joggers. Analysis showed that risk of death was reduced by 44% for male joggers (age-adjusted hazard ratio 0.56) and 44% for female joggers (age-adjusted hazard ratio 0.56) ... Furthermore the data showed jogging produced an age adjusted survival benefit of 6.2 years in men and 5.6 years in women. Further analysis exploring the amounts of exercise undertaken by joggers in the study has revealed a U-shaped curve for the relationship between the time spent exercising and mortality. The investigators found that between one hour and two and a half hours a week, undertaken over two to three sessions, delivered the optimum benefits, especially when performed at a slow or average pace ... The ideal pace can be achieved by striving to feel a little breathless. "You should aim to feel a little breathless, but not very breathless," ... It improves oxygen uptake, increases insulin sensitivity, improves lipid profiles (raising HDL and lowering triglycerides), lowers blood pressure, reduces platelet aggregation, increases fibrinolytic activity, improves cardiac function, bone density, immune function, reduces inflammation markers, prevents obesity, and improves psychological function"
Soy-based formula? Neonatal plant estrogen exposure leads to adult infertility in female mice - Science Daily, 5/2/12 - "A paper published May 2 in Biology of Reproduction describes the effects of brief prenatal exposure to plant estrogens on the mouse oviduct, modeling the effects of soy-based baby formula on human infants. The results suggest that exposure to estrogenic chemicals in the womb or during childhood has the potential to affect a woman's fertility as an adult, possibly providing the mechanistic basis for some cases of unexplained female infertility ... part of the National Institutes of Health, previously demonstrated that neonatal exposure to the plant estrogen genistein results in complete infertility in female adult mice. Causes of infertility included failure to ovulate, reduced ability of the oviduct to support embryo development before implantation, and failure of the uterus to support effective implantation of blastocyst-stage embryos ... The team now reports that neonatal exposure to genistein changes the level of immune response in the mouse oviduct, known as mucosal immune response. Some of the immune response genes were altered beginning from the time of genistein treatment, while others were altered much later, when the mouse was in early pregnancy. Together, those changes led to harmfully altered immune responses and to compromised oviduct support for preimplantation embryo development, both of which would likely contribute to infertility ... estrogenic chemical exposure to the female fetus, infant, child, and adolescent all have potential impacts on mucosal immunity in the reproductive tract and, therefore, on adult fertility. The authors present the view that limiting such exposures, including minimizing use of soy-based baby formula, is a step toward maintaining female reproductive health"
Eating fish, chicken, nuts may lower risk of Alzheimer's disease - Science Daily, 5/2/12 - "A new study suggests that eating foods that contain omega-3 fatty acids, such as fish, chicken, salad dressing and nuts, may be associated with lower blood levels of a protein related to Alzheimer's disease and memory problems ... 1,219 people older than age 65, free of dementia, provided information about their diet for an average of 1.2 years before their blood was tested for the beta-amyloid. Researchers looked specifically at 10 nutrients, including saturated fatty acids, omega-3 and omega-6 polyunsaturated fatty acids, mono-unsaturated fatty acid, vitamin E, vitamin C, beta-carotene, vitamin B12, folate and vitamin D ... the more omega-3 fatty acids a person took in, the lower their blood beta-amyloid levels. Consuming one gram of omega-3 per day (equal to approximately half a fillet of salmon per week) more than the average omega-3 consumed by people in the study is associated with 20 to 30 percent lower blood beta-amyloid levels ... Other nutrients were not associated with plasma beta-amyloid levels" - See Mega Twin EPA at Amazon.com
and Jarrow Max DHA at Amazon.com
.
Unmasking black pepper's secrets as a fat fighter - Science Daily, 5/2/12 - "piperine also can block the formation of new fat cells ... piperine interferes with the activity of genes that control the formation of new fat cells. In doing so, piperine may also set off a metabolic chain reaction that helps keep fat in check in other ways" - See piperine at Amazon.com
.
Blood pressure drugs linked with lower PTSD symptoms - Science Daily, 5/1/12 - "These data come from an observational study, not a randomized clinical trial, so it is important to limit our interpretation until larger, placebo-control, double-blinded trials can be performed ... Patients taking ACE inhibitors or ARBs had an approximately 30 percent decrease in PTSD symptom scores, but no significant differences were apparent for those taking other blood pressure medications, including beta-blockers, calcium channel blockers, and diuretics. In particular, individuals taking ACE inhibitors or ARBs tended to have lower levels of hyperarousal and intrusive thoughts" - See telmisartan or ramipril at OffshoreRx1.com.
Biosynthetic grape-derived compound prevents progression of Alzheimer's disease in animal model - Science Daily, 5/1/12 - "Polyphenols, which occur naturally in grapes, fruits, and vegetables, have been shown to prevent the cognitive decline associated with AD in a mouse model, but the molecules are very complex and are extensively metabolized in the body. This is the first study to determine which specific subfraction of these molecules penetrates the animal brain, and demonstrate that a drug compound similar to polyphenols can exert similar bioactivities ... Dr. Pasinetti's team analyzed the structure of this polyphenol by nuclear magnetic resonance imaging and recreated it biosynthetically in the laboratory. Dr. Pasinetti and his collaborators discovered that the synthetic polyphenol generated in the laboratory also promoted plasticity and benefits in learning and memory functions in the brains of the mice" - Note: Sounds like a way to get rich off a patent when the original natural version is probably better in the first place. - See grape seed extract at Amazon.com
.
Vitamin D blood level for reducing major medical risks in older adults identified, study suggests - Science Daily, 5/1/12 - "the researchers concluded that the risk of these disease events rose when the concentration of 25(OH)D fell below 20 ng/milliliter or 50 nmol/liter" - See vitamin D at Amazon.com
.
Study resolves controversy on life-extending red wine ingredient, restores hope for anti-aging pill - Science Daily, 5/1/12 - "The new findings show for the first time that the metabolic benefits of the red wine ingredient known as resveratrol evaporate in mice that lack the famed longevity gene SIRT1 ... They show that resveratrol targets SIRT1 directly at moderate doses and hits other targets at higher ones. Importantly, SIRT1 is required for resveratrol's benefits irrespective of dose" - See resveratrol products at Amazon.com
.
Abstracts from this week's Doctor's Guide Nutrition/Dietetics plus abstracts from my RSS feeds (Click here for the journals, the PubMed ones at the top):
Dutasteride/Tamsulosin: in benign prostatic hyperplasia - Drugs Aging. 2012 May 1;29(5):405-19 - "Dutasteride 0.5 mg/day plus tamsulosin 0.4 mg/day improved lower urinary tract symptoms (LUTS) to a significantly greater extent than dutasteride or tamsulosin alone in men with BPH, moderate to severe LUTS and an increased risk of disease progression, according to the results of the randomized, double-blind, multinational CombAT trial. The mean change from baseline in the total International Prostate Symptom Score was significantly greater with dutasteride plus tamsulosin than with dutasteride or tamsulosin alone after 2 years (primary endpoint) and 4 years of therapy. After 4 years' therapy in the CombAT trial, the time to first acute urinary retention or BPH-related surgery (primary endpoint) significantly favoured men with symptomatic BPH who were receiving dutasteride plus tamsulosin versus those receiving tamsulosin alone, with no significant difference between recipients of dutasteride plus tamsulosin and recipients of dutasteride alone. In the CombAT trial, health-related quality of life and treatment satisfaction were improved to a significantly greater extent with dutasteride plus tamsulosin than with dutasteride or tamsulosin alone. Combination therapy with oral dutasteride plus tamsulosin was generally well tolerated in patients with symptomatic BPH in the CombAT trial" - See dutasteride (Avodart) 30 x 0.5mg capsules at International Antiaging Systems.
Habitual flavonoid intakes are positively associated with bone mineral density in women - J Bone Miner Res. 2012 May 1 - "The aim of this observational study was to examine the association between habitual intake of flavonoid sub-classes with bone mineral density (BMD) in a cohort of female twins. 3160 women from the TwinsUK adult twin registry participated in the study. Habitual intakes of flavonoids and sub-classes (flavanones, anthocyanins, flavan-3-ols, polymers, flavonols, flavones) were calculated from semi-quantitative food frequency questionnaires using an updated and extended USDA database ... total flavonoid intake was positively associated with higher BMD at the spine but not at the hip ... total flavonoid intake was positively associated with BMD, with effects observed for anthocyanins and flavones at both the hip and spine supporting a role for flavonoids present in plant-based foods on bone health"
Health Focus (Macular Degeneration):
Related Topics:
Popular Supplements:
Alternative News:
Other News: